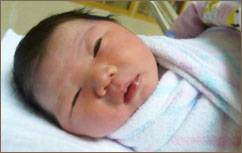 The Unit is equipped with advanced equipments for neonatal intensive care. Newborn babies are placed under the watchful eye of pediatricians and well-trained staff who provide them with a high level of nursing care.
To ensure the safety of babies, the Nursery Unit is only accessible to authorised staff and parents. Relatives or friends can view babies in a designated area through an observation window. In addition, a breast-feeding room is situated at the unit with experienced staffs to provide guidance and support for breast-feeding mothers.
To promote knowledge and understanding of post-natal care and neonatal care among pregnant women and their family members, the Unit's is equipped with Union Hospital Education TV Channel to provide free information to all.